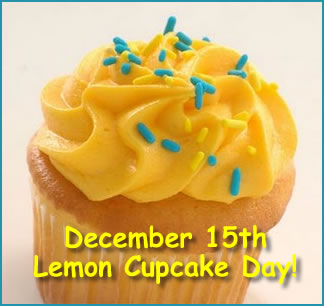 Lemon Cupcakes with Lemon Buttercream Frosting
yields about 24 cupcakes
for the cupcakes
3 cups all-purpose flour
1 Tablespoon baking Powder
1/2 teaspoon salt
2 cups sugar
4 Tablespoons grated lemon zest (about 4-5 lemons)
1 cup ( that's 2 sticks) unsalted butter, softened to room temperature
4 room temperature eggs
1/2 teaspoon almond extract
1 cup buttermilk (allow it to sit at room temp. for about 20 minutes)
2 Tablespoons fresh lemon juice
for the frosting
1 cup (that's 2 stick) unsalted butter, softened to room temp.
3 1/2 cups confectioners' sugar (have an extra 1/2 cup on hand, just in case)
1/4 cup half & half cream
1 teaspoon pure vanilla extract
1/4 teaspoon of salt
1 teaspoon finely grated lemon zest
3 Tablespoons fresh lemon juice
method
Preheat the oven to 325 F. Line muffin tins with paper (this recipe will make about 24 cupcakes).
In a large bowl, whisk together the flour, baking Powder, and salt; Set aside.
In the bowl of a stand-mixer (or any large mixing bowl if you're using a hand-held), combine the sugar and lemon zest. Use your finger tips to rub the zest into the sugar until it's moist and fragrant. Add the butter and, using the paddle attachment, beat on med-high until light and fluffy (about 5 minutes). Add the eggs, one at a time, beating for about 1 minute per egg. Scape down the sides of the bowl as needed. Beat in the almond extract.
In a small bowl, whisk together the buttermilk and lemon juice.
Add flour mixture in three batches, alternating with two additions of buttermilk and lemon juice, and beating until just combined after each.
Divide the batter evenly among the prepared tins (about 3/4 full for each).
Bake for 20-25 minutes, or the tops spring back when lightly touched and a small knife inserted into a center cupcake comes out clean.
Remove from the oven allow the cupcakes to cool completely in muffin tins before frosting.
Prepare the frosting: In the bowl of a stand mixer, fitted with the paddle attachment, beat the butter on medium speed until light and fluffy (about 3-5 minutes). Slowly begin adding the sugar, and beat until well combined. Beat in the cream, vanilla, and salt. Once combined, turn the mixer up to medium speed and beat for about 3 minutes straight. Turn the mixer down to low and add the lemon zest and lemon juice. Beat for another 3 minutes until the frosting is fluffy and light. [Note: If the frosting looks too thin, add that extra 1/2 cup of sugar. If it's too thick, add a splash of cream, and beat to combine.]
Decorate the cooled cupcakes as desired! [Note: Because I used a piping bag, I started to run out of frosting before all the cupcakes were covered. So for about 8 cupcakes, I simply spread the remaining frosting, using a small off-set spatula
recipe resource
here