The Christmas Wreath is a very popular decoration. Hung on the front doors as a sign of welcome, used in advent wreaths in Christian traditions, hung from lamp post in the city, and dotted here and there. The wreath has been around for centuries. The wreath was important in the pagan culture in December as they celebrated the winter solstice. The wreath were signs of approaching spring light. Candles were added to wreaths to resemble power of the sun.
In ancient Persian Empire the wreath has a bit of history as well. Wreaths were a symbol of importance and success. Wreaths were worn as headbands. Ancient Greeks wore wreaths of laurel on the heads of victorious athletes in the Olympic Games. Roman leaders also wore wreaths on their heads as crowns.
Today, the wreath has a meaning of its own as well. The ring of the wreath has no beginning and no end and symbolizes eternity. Pagan's belief of the wreath having power has been changed by today's Christians and tells the story of eternal life. Material used to make a wreath has its own meaning as well. Holly represents immortality and cedar represents strength. For many though the wreath is a symbol of welcoming in those that bring holiday cheer and to emphasize giving and gathering of love.
Make your own wreath here are some grand ideas for you to choose the perfect wreath for you to make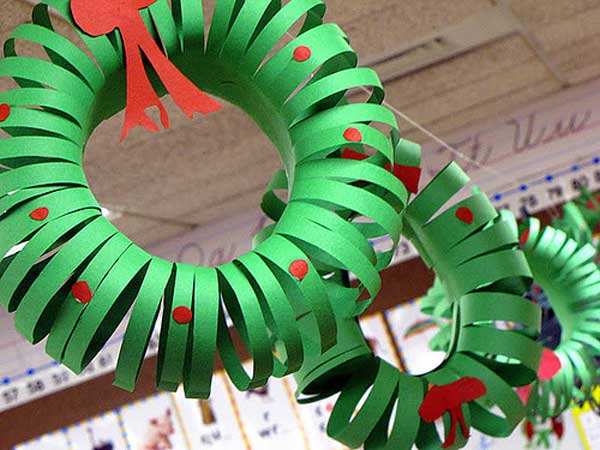 1/2 cup butter
5 heaping cups miniature marshmallows
1 tsp green food coloring
5 1/2 cups corn flakes cereal
Handful of red cinnamon candies

Instructions
Measure corn flakes into a large bowl.
Melt butter in a large saucepan over low heat. Once melted, add the marshmallows and stir continuously until completely melted. Stir in food coloring.
Pour melted marshmallows into the large bowl with the corn flakes. Stir until well coated.
Lay out a piece of parchment paper on your kitchen counter. Dollop spoonfuls of the cornflake mixture onto the parchment paper. Grease your (clean) hands with butter or cooking spray, or dip them in a little bit of water. Use your fingers to shape each spoonful into an individual wreath. Top each wreath with cinnamon candies.