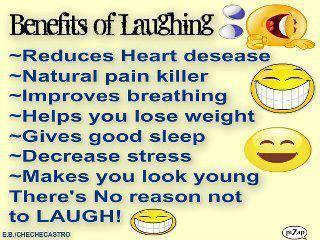 Smiling goes hand in hand with laughter as I have yet to see someone laugh with a frown. So it easy to diagnose that smiling helps you feel better and can boost your immune system. A person that is happy is more relaxed and feels better as a smile is a reflex reaction to pleasant situations as well as an expression of joy. Smiling releases endorphins into our body and we feel better and happier.
If you have visited annies home within the last few days you have read where
smiling is good for your health
as well as is good for your mood and reduces stress. Smiling will help us live a longer more productive life. You can start smiling at the thought that a happy person will have less pain and aggression in their life. Smiling puts us in a more relaxed mood and helps us to lower our heart rate and relax the body.
So put a smile on your face and have a good laugh knowing that there are health benefits to smiling