When in Spain do as those that live in Spain do. But believe me the Spanish are prepared for the tourist with entertainment, music, history and much more. One dish that possess a name that means "strictly for tourists" is "paella turista" This is American style of paella, a mix of ingredients from land and sea that is served over rice that is must likely is overcooked and may be artificially colored. However, if your are not sure what paella is then that is where the story must begin.
Valencia, Spain on the eastern coastline is a great area for producing rice. Paella was grown there and then cooked outdoors over wood burning fires for farm workers Often the rice would be cooked with rabbit, snails and beans.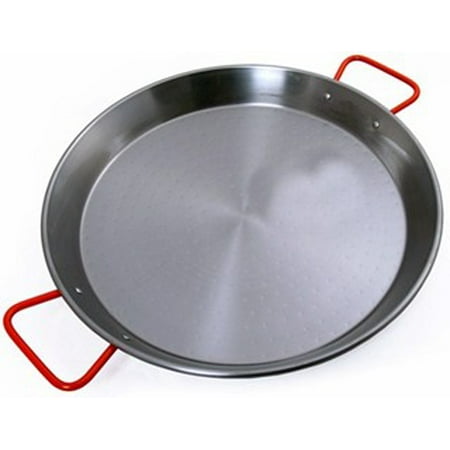 If you visit spain today, you will find groups of family and friends getting together to cook paella over an open fire or grill. It is the paellera pan that not only gave the dish its name but also offers a great taste as well. The paellera is shallow, wide and round with sloping sides. The best paelleras are thin carbon like steel pans and can be found at cookware shops. In the case you do not have a paelleras pan the n use a stainless steel or aluminum skillet as cast iron and nonstick pans are discouraged.
Turkey-Sausage Paella
(Start to finish 42 minutes)
2 3/4 cups fat-free, less-sodium chicken broth
1/4 teaspoon saffron threads
Cooking spray
2 ounces Spanish chorizo sausage
1/2 cup chopped onion
1/2 cup chopped red bell pepper
3 garlic cloves, minced
3/4 cup uncooked Arborio rice
1/4 cup dry white wine
1/2 teaspoon smoked Spanish paprika
14 1/2-ounce can petite diced tomatoes, drained
2 cups shredded cooked turkey breast (about 8 ounces)
1/2 cup frozen peas, thawed
2 tablespoons chopped fresh parsley
Combine broth and saffron in a small saucepan over low heat; bring to a simmer. Remove from heat.
Heat a large nonstick skillet over medium-high heat. Coat pan with cooking spray. Add chorizo to pan; cook 5 minutes or until browned, stirring to crumble. Remove chorizo from pan with a slotted spoon; drain on paper towels. Add onion and pepper to pan; cook 5 minutes or until lightly browned. Add garlic; cook 2 minutes. Add rice; cook 3 minutes, stirring constantly. Add wine and paprika; cook 1 minute or until liquid evaporates, scraping pan to loosen browned bits. Stir in broth mixture and tomatoes; bring to a boil. Cover, reduce heat, and simmer 20 minutes or until rice is tender and liquid is absorbed, stirring occasionally. Gently stir in turkey, peas and parsley; cook 2 minutes or until thoroughly heated.
Makes 4 servings (serving size 1 1/2 cups).
shared at these blog hops linkup and parties
Favorites thing Thursday
https://www.marilynstreats.com/thursday-favorite-things-382/