If you are like me then you have been enjoying the spring like weather. These little buttermilk cupcakes with lemon icing will help to share the great taste that come with spring as well. Enjoy!!!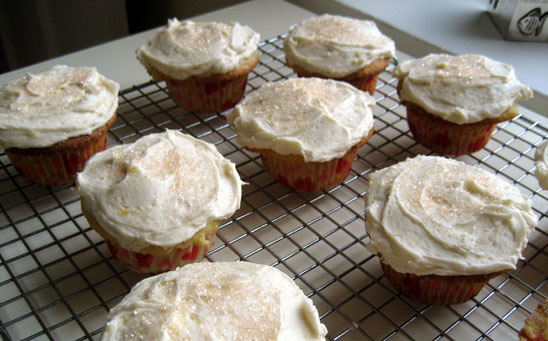 Buttermilk Cake
3/4 cup unsalted butter, softened
1 1/2 cups sugar
3 large eggs, room temperature
2 cups bleached flour
1 tsp. baking powder
1 tsp. baking soda
1 cup buttermilk, room temperature
1 1/2 tsp. vanilla
Preheat oven to 350 degrees. Butter cake pans and line bottom with parchment paper or line put papers in cupcake pan. Beat hte butter and sugar for 5 minutes at medium speed until light and fluffy (be sure to do the entire 5 minutes – this makes a big difference!). Beat in eggs one at a time, scraping bowl and beaters between each to incorporate.
Sift flour with the baking powder and baking soda. Add a quarter of the flour mixture to the butter-egg mixture. Then add vanilla and a third of the buttermilk. Repeat, beginning and ending with the flour mixture and scraping well after each addition.
Pour batter into prepared pans and spread to edges. Bake 25-30 minutes for layer cakes 18-20 minutes for cupcakes or until toothpick comes out clean. Cool pans on a rack for 5 minutes. Turn cakes out and cool completely.
Lemon Frosting
2 sticks butter, firm but not cold
zest of one lemon
1/8 tsp. salt
3 1/4 cups confectioner's sugar, sifted
1/2 tsp. vanilla
2 1/2 tsp. lemon juice
2-4 tsp. buttermilk
Beat butter, zest and salt on medium speed until light and fluffy, about 2 minutes. Reduce speed to low, gradually add sugar, beat until blended. Add the vanill and lemon juice and beat until smooth. Do not over mix or frosting will incorporate too much air. It will be creamy and dense. Add buttermilk 1 tsp. at a time until frosting has a spreadable consistency.
recipe resource
here
Retreat recipe
here
Shared on these blog hops lineups and parties
tastebud tuesday