One of the easiest and most important steps we can take to avoid getting sick and spreading germs to others is to wash our hands. Many times the reason that diseases spread are because individuals do not wash hands with soap and clean water. In the event that soap and water are not available use an alcohol based hand sanitizer that contains at least 60% alcohol to clean hands.
When should you wash your hands??
Before, during, and after preparing food
Before eating food
Before and after caring for someone who is sick
Before and after treating a cut or wound
After using the toilet
After changing diapers or cleaning up a child who has used the toilet
After blowing your nose, coughing, or sneezing
After touching an animal, animal feed, or animal waste
After handling pet food or pet treats
After touching garbage
Wet Wash and Dry
Washing your hands does not take forever but it is a process that should be done right in order to help prevent illness or spreading germs. The following process is recommended by the CDC: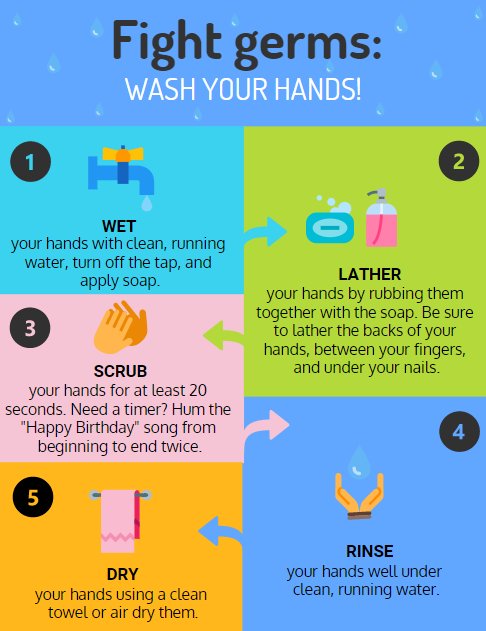 Wet your hands with clean, running water (warm or cold), turn off the tap, and apply soap.
Lather your hands by rubbing them together with the soap. Be sure to lather the backs of your hands, between your fingers, and under your nails.
Scrub your hands for at least 20 seconds. Need a timer? Hum the "Happy Birthday" song from beginning to end twice.
Rinse your hands well under clean, running water.
Dry your hands using a clean towel or air dry them.
It is important to first wet hands under running water. A basin of water may have been previously used and contaminated. If there is no running water then use non-potable water. Unlike previously thought the temperature of the water does not matter in killing germs. However, warmer the water the more skin irritation may occur.
The use of soap is more effective in cleaning hands than water alone. Soap has properties that help lift soil and germs from the skin. Scrubbing hands helps remove germs and occurs more when using soap as well.