Frappe is a Greek foam covered iced coffee drink. The drink is made with a cocktail shaker or a mixer. In the shaker mix instant Nescafe coffee, water and sugar then add cold water or ice cubes and milk if you wish. Top the drink off when done with espresso and whipped cream.
Frappe's are quite popular and trendy with a variety of recipes on how to fix them. The ice blended drinks is an international drink that according to the English dictionary means "to chill" It was made popular during the mid 1980s and '90s. Large stores would serve the frozen coffee beverages to the up and coming and others that were interested as well.
Like many other things the Frappe was an invention base purely on accident. It came about during an International Fair in 1957 hosted in Thessaloniki. Nestle in Greece has been directly behind the marketing.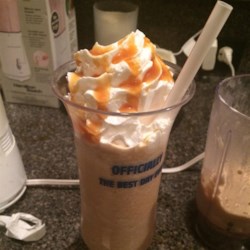 2 cups ice
1 cup strong brewed coffee, cooled
1 cup low-fat milk
1/3 cup caramel sauce
3 tablespoons white sugar
Blend ice, coffee, milk, caramel sauce, and sugar together in a blender on high until smooth. Pour drink into two 16-ounce glasses.
recipe resource
here
retweet post
here