Do you recall those large family get togethers where you always tried to bring home a plate of food for later?? Well, my plate of food was nearly always full and I did not mind if the food touched. This recipe is sort of like that. Imagine a plate of food with both oatmeal cookies and apple pie. You will end up with these delicious Apple Crisp Cookie Cups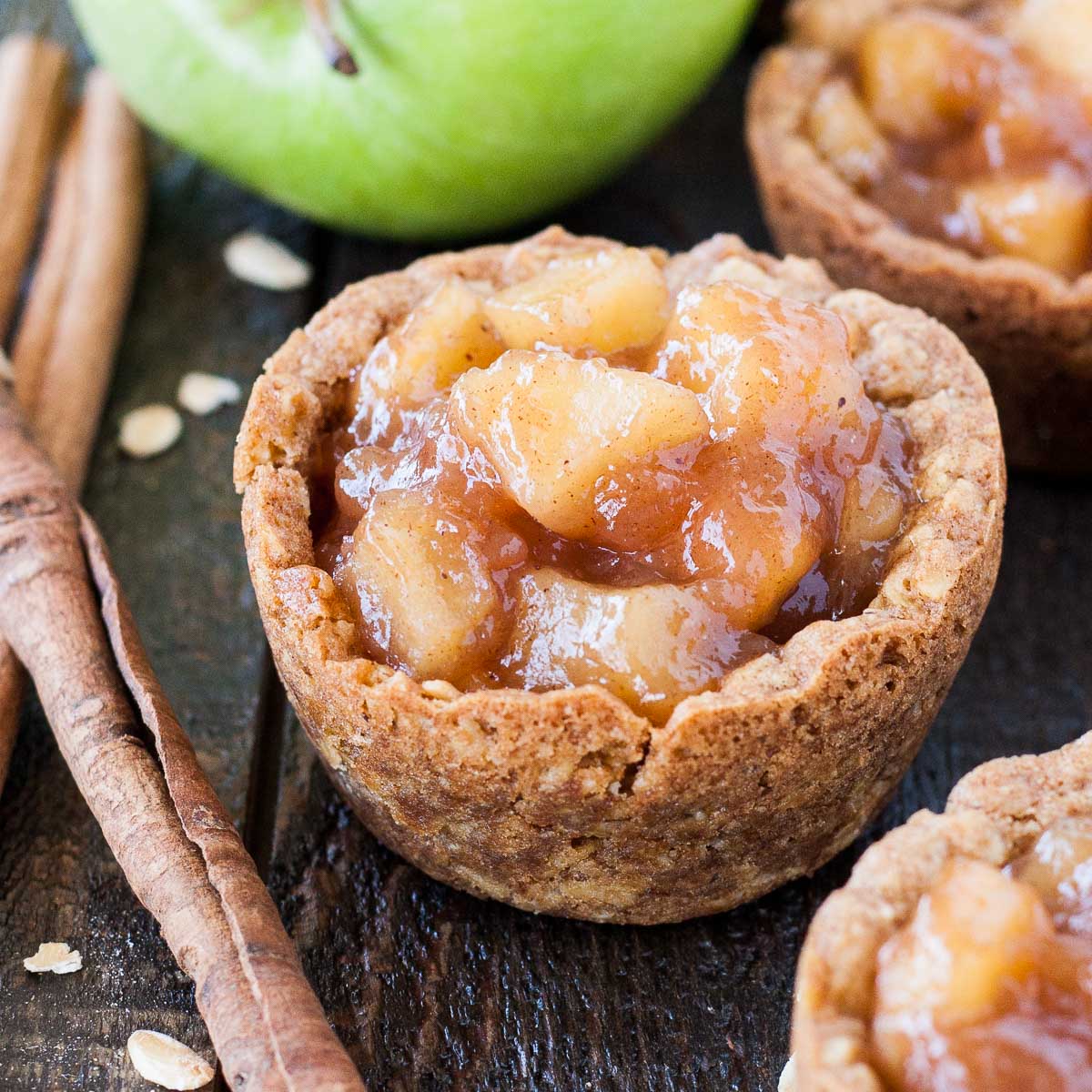 Apple Pie Filling:
6 cups Granny Smith apples 4-5 apples, peeled and chopped
1 Tbsp lemon juice
1/2 cup light brown sugar packed
1/2 cup granulated sugar
1/4 cup cornstarch
1 tsp ground cinnamon
pinch ground nutmeg
pinch salt
2 cups water
Oatmeal Cookie Cups:
1 1/2 cups all-purpose flour
1 tsp baking soda
1 tsp ground cinnamon
1/2 tsp sea salt
1 cup unsalted butter room temperature
1 cup light brown sugar packed
1/4 cup granulated sugar
2 large eggs room temperature
2 tsp vanilla
3 cups rolled oats
Sugar Glaze:
1 cup powdered sugar
1 Tbsp water
US Customary - Metric
Apple Pie Filling:
Toss apples and lemon juice in a medium bowl, set aside.
In a medium saucepan, combine sugars, cornstarch, and spices. Pour in water. Cook over medium heat until boiling. Cook for 2 minutes. Add apples, bring back to a boil. Simmer until tender (10-15mins). Cool completely.
Oatmeal Cookie Cups:
In a medium bowl, whisk flour, cinnamon, baking soda, and salt. Set aside.
In the bowl of an electric mixer, beat butter and sugars on med-high until pale and fluffy (approx. 3 minutes).
Add eggs one at a time, fully incorporating after each addition, and beat on high for 1 minute. Add vanilla.
Turn mixer to low and add flour mixture, mix until combined. Add oats and mix until just combined.
Spray 2 regular sized muffin tins with cooking spray. Using a large cookie scoop (3 Tbsp) scoop dough into muffin tins, press down and push up the sides to create cups.
Preheat oven to 350°F. Bake cookie cups for approx. 15mins or until browned and mostly set.
Remove from oven and (if needed) immediately use a small jar or container to press firmly down in the center to create a well. Cool in pans for 15mins, then place on wire rack to cool completely.
Assembly:
Using a tablespoon, fill each cookie cup with apple pie filling. Drizzle with sugar glaze if desired.
retweet post
here
shared this post at these bloghops, parties and linkups
inspire me tuesday