Cheese on toast or in Scotland "Toasted Cheese" or "roasted cheese" is a snack or sandwich that is made by placing cheese on slices of bread and melting the cheese via a heatsource. Cheese on toast can be served along side an entree or it makes a simple meal all on its own.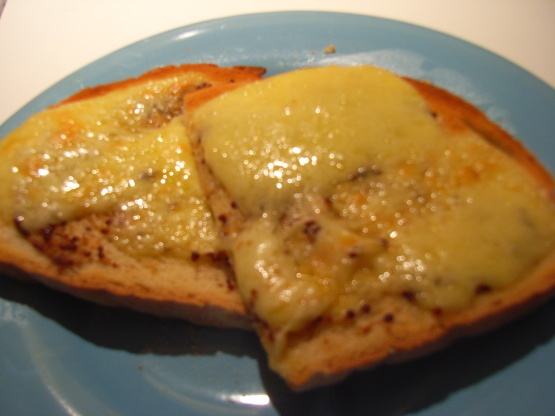 Cheese on toast is made with buttered or non buttered bread and cheese. Other toppings such as chopped onions, brown sauce, ketchup, pickled cucumber, pickles, tomato, fried eggs or another of items can be used. Cheddar cheese is the most common type of cheese to use. Roasted cheese demands the bread to be toasted prior to applying the cheese.
In America a popular heated cheese sandwich is a toasted or grilled cheese. Any sort of bread may be used most commonly with butter or mayonnaise to help grill or toast the sandwich Yet, another type of cooked cheese sandwich is the cheese toastie. This sandwich is created by baking in an oven Cheddar once again is the most common cheese used.
Cooked bread and cheese has been around for a long time. Food historians believe that the grilled cheese in the U.S. originated in the 1920s. Bread was inexpensive and american cheese was easy to get. An open faced version of the grilled cheese the "cheese dream" was popular during the great depression. Grilled cheese are normally prepared with two slices of bread and cheese. The bread is heated until crisp and cheese melts. Peppers, tomatoes or onions may be addd. Griddles, pan frying or panini grill or sandwich toaster are all common ways to create grilled cheeses.