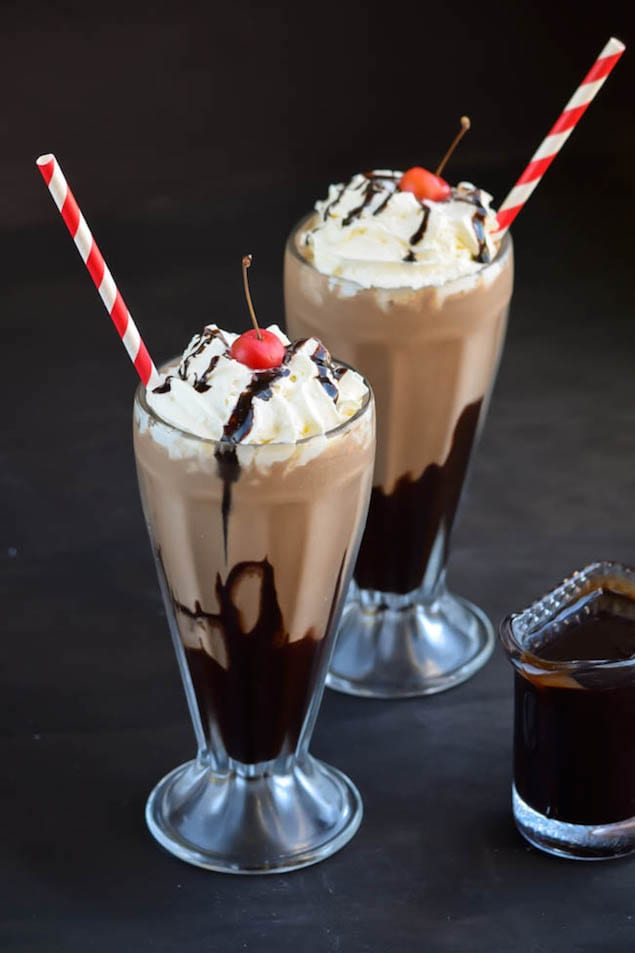 Chocolate Malts:
½ cup malted milk powder
4 cups store-bought or homemade(recipe follows) chocolate ice cream
⅔ - 1 cup whole milk
Optional Toppings:
chocolate syrup (recipe follows)
whipped cream
fresh cherries
Homemade Chocolate Syrup:
1 tablespoon honey
¾ cups cocoa
⅔ water
1 cup sugar
pinch of salt
½ teaspoon vanilla extract
Chocolate Icecream:
3 cups heavy whipping cream
1½ cups whole milk
8 large egg yolks
½ cup cocoa
pinch of salt
1½ teaspoons vanilla extract
Chocolate Malts:
Blend malt, icecream, and milk in a blender or food processor until smooth. Pour into glasses and if desired top with chocolate syrup, whipped cream, and a cherry on top!
Syrup:
For syrup, combine all ingredients except vanilla in a small saucepan over medium heat. Stir until sugar is dissolved and it begins to thicken, 3 - 4 minutes. Remove from heat and cool for at least 10 minutes before stirring in vanilla.
Cocolate Ice cream:
For the ice cream, beat egg yolks and sugar in a medium bowl until they start to look lighter. In medium saucepan heat milk and cocoa until over medium heat until very warm and cocoa has dissolved. Remove from heat and temper in egg/sugar mixture by adding a little of the warm milk at a time until about half has been added.
Pour tempered yolk mixture into saucepan and add cream, and salt. Bring mixture to a simmer over low heat stirring constantly until thickened enough to coat the back of a spoon (it takes 5-10 minutes).
When thickened, pour into a sealable container and allow to cool for about 30 minutes then add vanilla and place in fridge to chill for at least 6 hours or overnight before freezing.
Pour into an ice cream maker and freeze according to the manufacturer's directions.
shared at
we are creative