Salads are a great food for those trying to diet, eat healthier or to simply accompany as a side dish. Salads are great for getting nutritional value. Salads are full of fruit and vegetables The nutrients in a bowl of salad often includes beta carotene, lutein, vitamin C and more that are important to your health. Sadly, many of these nutrients will not make it to their destination because of the bodies processes. However, there is a way to increase the value of a salad and it is easy enough to do.
Eggs are often found on the salad bar. Eggs are a superfood all on their own but when combined with your salad they have the super power of helping your body gain nutrients. This is not a new finding in fact, you may have heard about it before. It was the year 2015 when the American Society for Nutrition provided researched proof that eggs can help absorb nutrients when on top of salads.Hard boiled eggs top a number of salads, but unlike many have thought in the past it is not the egg white that helps absorb the most nutrients. Rather, the fact is that the fat in the egg yolk is responsible for increased nutrient absorption.
Eggs have long been proven to be beneficial for good health. Eggs offer protein that makes us feel fuller and gives all day energy, iron, vitamins and minerals. Eggs have also been shown to help reduce risk of type 2 diabetes. With all this what else could one ask for?? How about the fact that they are quick and easy to make as well.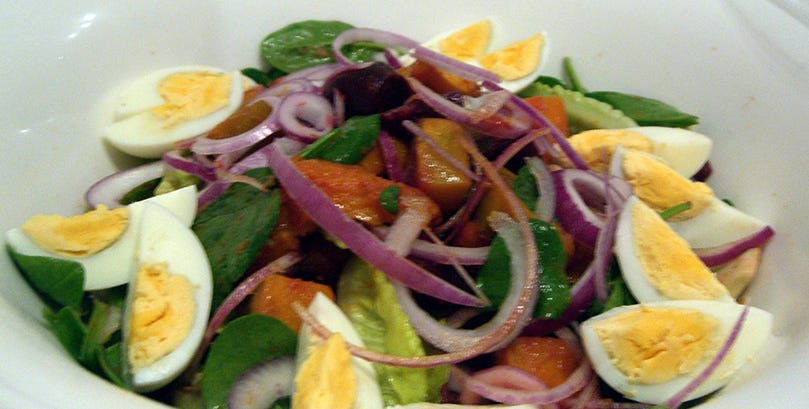 sources used for resource found
here