Corn Casserole
serves 4-6, prep 15 min, cook 30 min, adapted from eCurry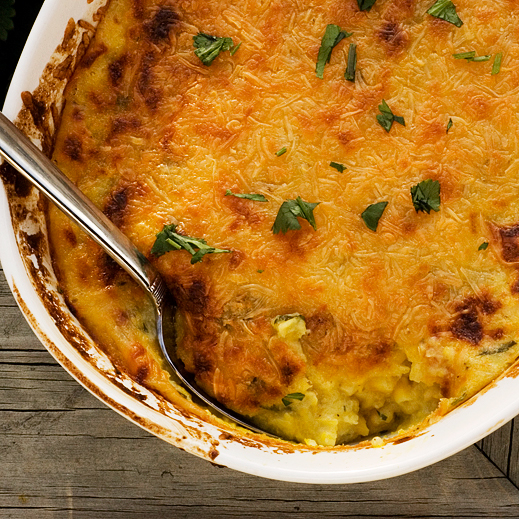 3 cup corn kernels
2 cups milk, divided
2 tbsp butter
1/2 onion, diced
2 jalapenos, diced
1/4 cup flour
salt and pepper, to taste
1/3 cup cornmeal
1 tsp sugar
3 tbsp cilantro, chopped
1 cup cheese, grated, such as Jack
chopped cilantro for garnish
Heat oven to 350°F. Grease a medium casserole dish with butter or spray.
In a food processor, combine corn kernels and 1/2 cup of milk. Pulse several times or until about half of the corn is pureed.
Melt butter in a sauce pan over medium-high heat.
Saute onions and jalapenos in butter until soft.
Sprinkle with flour and cook for a couple of minutes or until golden.
Add remaining 1 1/2 cups of milk and whisk until smooth.
Cook, whisking often, until thick and smooth.
Salt and pepper the sauce to taste.
Stir in corn mixture, cornmeal, sugar and cilantro. Taste for salt and pepper again.
Pour mixture into the casserole dish and sprinkle with grated cheese.
Bake 30 minutes or until cheese is golden and beginning to brown (you can put the broiler on for a minute at the end if your cheese isn't brown enough).
Allow casserole to sit for about 10 minutes and then sprinkle with freshly chopped cilantro before serving.
shared at
Thursday Favorite Things