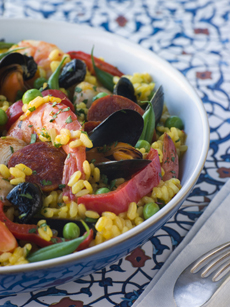 6 cups of very strong chicken broth (bouillon)
1/2 teaspoon of saffron
1/4 teaspoon of smoked Spanish paprika (pimentòn de la vera)
1 small onion, peeled
2 small chickens, about 2-1/2 pounds each
1/2 cup olive oil
1/4 pound of cooking chorizo, in 1/4 inch slices
1/4 pound piece jamón serrano (serrano ham), diced
1 medium onion, chopped
4 scallions, chopped
4 tablespoons chopped garlic
2 roasted piquillo peppers
1 lb small or medium shrimp, shelled
8 king crab claws; or 8 jumbo shrimp, in their shells, preferably heads
on (for an impressive look on top of each serving)
18 clams and/or mussels, scrubbed
1/2 pound calamari (squid)
2 Live lobsters,* boiled, split and divided into tail sections and claws (discard or keep the head and small claws); or 4 lobster tails, split lengthwise
3 cups bomba or calasparra rice, or other short grain Spanish rice
5 tablespoons chopped parsley
2 bay leaves, crumbled
1/2 cup dry white wine
1/4 lb fresh or
frozen
peas
Garnish: Lemon wedges and parsley
*To save money, substitute more calamari, mussels and/or shrimp for the lobster.
Heat the broth with the saffron, pimentón and the whole onion. Cover and simmer 15 minutes. Remove the onion and measure the broth: You need exactly 5-1/2 cups. Cut the chickens into small serving pieces: the whole breast into 4 parts, each thigh into 2 parts, the bony tip of the leg chopped off, the wing tip discarded, and the rest of the wing separated into 2 parts. Dry the pieces well and sprinkle with salt. In a metal paella pan with about a 15 inch base,* heat the oil. Add the chicken pieces and fry over high heat until golden. Remove to a warm platter. Add the chorizo and ham to the pan and stir fry about 10 minutes. Add the chopped onion, scallions, garlic and pimentos and saute until the onion is wilted. Add the shrimp and the lobster and sauté about 3 minutes more, or until the shrimp and lobster barely turn pink (the lobster will cook more in the oven). Remove the shrimp and lobster to the platter with the chicken. Add the rice to the pan and stir with the oil to coat it well. Sprinkle in the 5 tablespoons of chopped parsley and the crumbled bay leaves. (You can make in advance up to this point.) Stir in the chicken broth, the wine and peas. Salt to taste. Bring to a boil and cook uncovered, stirring occasionally, over medium high heat about 10 minutes. Bury the shrimp and the chicken in the rice mixture. Add the clams and the mussels, pushing them into the rice, with the edge that will open facing up. Decorate the paella with the lobster pieces, then
bake
uncovered at 325° for 20 minutes. Remove from the oven and let sit on top of the stove, lightly covered with foil, for about 10 minutes. To serve, decorate with lemon wedges and chopped parsley.
recipe source here
shared at