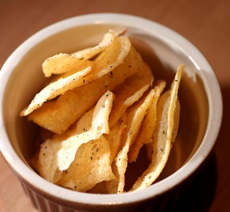 3 medium potatoes (Idaho, Russet or Yukon Gold; or Sweet Potato)
1-1/2 cups vegetable oil
Salt
Additional seasonings of choice (pepper, garlic salt, powdered cheese, chili powder, curry powder, cinnamon sugar [great on sweet potato chips]—if you can envision it, try it!)
Peel the potatoes. With a mandoline or a thin knife, slice them 1/8" thick.
Rinse the slices in a bowl of cold water to remove the potato starch. Change the water twice. Pat the slices thoroughly dry with paper towels.
In a large skillet, heat the vegetable oil until almost smoking (about 350°F). Add half of the potato slices and cook over moderately high heat.
Turn the potatoes once, cooking them for about a total time of 7 minutes, or until they are golden and crisp.
Remove the chips with a slotted spoon and drain them on paper towels. Repeat with remaining potato slices.
Sprinkle with salt, pepper, or other seasonings to taste. Serve at room temperature.
Store leftover chips in an airtight container, but consume within 2-3 days.