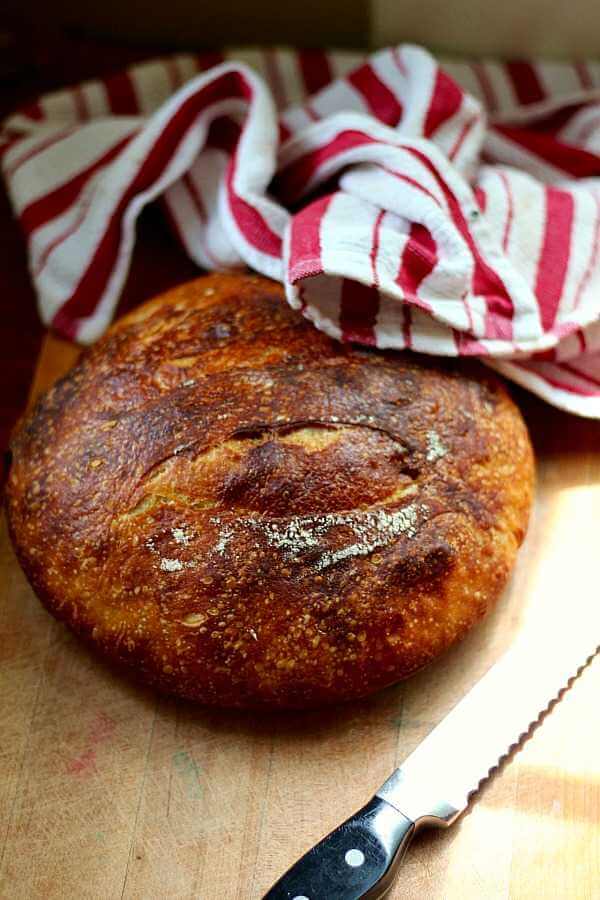 1 cup active starter 250g
1 1/2 cups filtered water 350g
4 cups bread flour 500g
2 teaspoons sea salt dissolved in 1 teaspoon warm water 10g
Sponge
Combine the starter, water, and flour in a large bowl.
Mixture will be thick -- you'll need to stir with your hands until all of the flour is mixed in.
Cover with plastic wrap and let it rest one hour.
Dough
Lightly grease a heavy dutch oven and sprinkle lightly with cornmeal.
Add the salt and water mixture to the dough and squish in with your fingers.
Place the dough back in the bowl.
Cover with plastic wrap and let stand until doubled - about 6 to 12 hours.
Baking the Sourdough.
Gently east the dough out of the bowl - you don't want to break up the air pockets.
Shape it into a round and place it carefully in to the dutch oven.
Put the cover on.
Let it rise until puffy, about 45 minutes.
Make 3 shallow slashed in the dough with a very sharp knife.
Preheat the oven to 450F.
Bake for 20 minutes.
Remove the cover and bake until golden brown - about 30 to 40 more minutes. You can double check the temperature by inserting and insta-read thermometer in the center. When it's done the temperature will be about 205F.
Remove the loaf immediately from the dutch oven and let cool completely before slicing.
recipe resource
here
shared at
foodie friday
spring clean diy sunday feature