You scream , I scream We all scream for Ice Cream and when we scream on August 2nd we will be making up a few ice cream sandwiches. Like these great Smores Ice Cream Sandwiches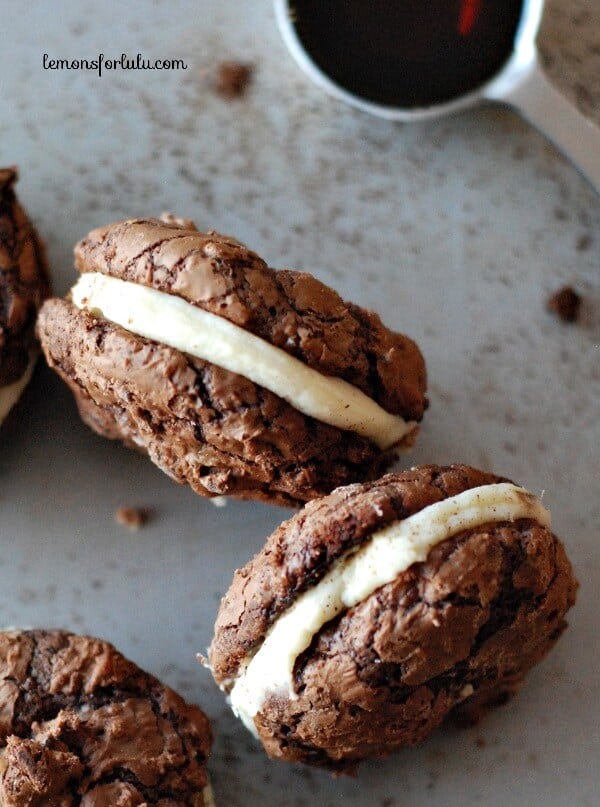 1/2

cup butter

4

oz unsweetened chocolate, chopped

1

1/2 cups semi sweet chocolate chips, divided

1

1/2 cups flour

1/2

teaspoon baking powder

1/2

teaspoon salt

4

large eggs

1

1/2 cups sugar

2

teaspoons vanilla

1

cup half and half

3/4

cup sugar

3

egg yolks

1

cup whole milk Greek yogurt

pinch of salt

1/2

teaspoon vanilla

7

oz marshmallow fluff

1

cup graham cracker crumbs.
Combine the butter, unsweetened chocolate and 1 ½ cups of semi sweet chocolate in a saucepan. Cook over low heat, stirring until butter and chocolate have melted. Stir until smooth, remove from heat and let cool.
Combine flour, baking powder and salt in a small bowl. Set aside.
Beat eggs, sugar and vanilla in the bowl of mixer. Carefully beat in flour mixture. Beat well. Add in cooled chocolate. Beat until well combined
Using a large cookie scoop, drop dough onto lined baking sheets.
Bake in a 350-degree oven for 10 minutes. Let cookies cool on baking sheets for 1 minute before removing to a cooling rack. You should get 24 large cookies.
For the ice cream: in a saucepan, stir together half and half and ½ cup sugar over medium heat. Bring mixture to a boil. Whisk egg yolks and remaining sugar in a large heatproof bowl. Carefully whisk hot liquid into egg mixture until completely blended. Return everything to saucepan and stir over medium heat until mixture begins to thicken and start to resemble custard, this should take about 3 minutes. Strain custard and pour into a small bowl, which is set in a large bowl of ice. Let cool to room temperature. Remove and stir in yogurt, vanilla and salt. Refrigerate until completely cooled.
Pour custard into the bowl of an ice cream maker and proceed according to manufacturers directions. Transfer to a container and fold in marshmallow fluff until it is fully incorporated. Cover and freeze ice cream until firm.
To assemble. Top one cookie with a scoop of ice cream and top with a second cookie. Repeat until all the cookies have been used. Freeze for 30 minutes. Place graham cracker crumbs in a shallow bowl and dip sandwiches into crumbs, rolling to get all sides. Refreeze until ready to serve. Makes 12 sandwiches.