Cinnamon Raisin Oatmeal Bread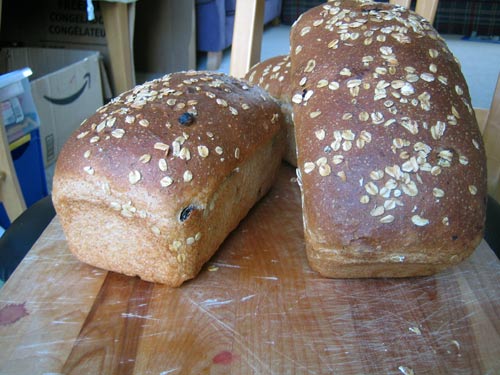 Makes 3 loaves
24 oz (5 1/2 cups) bread or all-purpose unbleached flour
8 oz (1 7/8 cups) whole wheat flour
5.3 oz (1 5/8 cups) rolled oats
20 oz (2 1/2 cups) water
3.5 oz (3/8 cups) milk
2.4 oz (3 tablespoons) honey
2.4 oz (5 1/2 tablespoons) vegetable oil
.7 oz (1 tablespoons plus 1/2 teaspoon) salt
.37 oz (1 1/4 tablespoon) instant yeast
.5 oz (2 tablespoons) ground cinnamon
10.6 oz (2 cups) soaked and drained raisins
At least half an hour before you begin, soak the raisins in warm water.
Doing so plumps them, which makes them softer and moister in the loaf and also prevents the ones on the surface of the loaf from burning. Just prior to adding the raisins to the loaf, you'll pour the water out.
Next, soak the oats in the 2 1/2 cups water for 20 to 30 minutes.
If you are using active dry yeast instead of instant yeast, which I did, withhold 1/2 cup of the water to proof the yeast in.
Mix the flours, yeast, milk, honey, oil, salt, and cinnamon into the oats. Mix well, until all of the flour is hydrated. Knead by hand for 5 minutes or in a stand mixer for 3, then mix in the drained raisins. Knead or mix until the raisins are distributed throughout the dough.
Cover the bowl of dough and allow it to rise for 1 hour. Then remove the dough from the bowl and fold it, degassing it gently as you do. The images below illustrate this technique.
Place the dough on a floured work surface, top side down.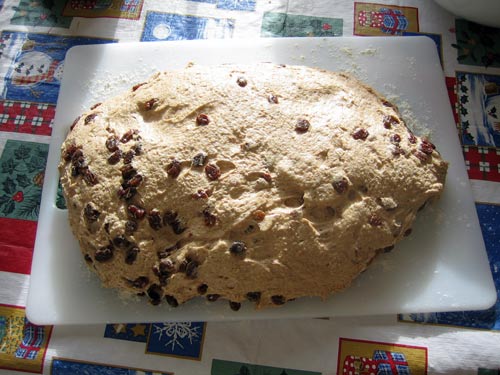 Fold the dough in thirds, like a letter, gently degassing as you do.
Fold in thirds again the other way.
Flip the dough over, dust off as much of the raw flour as you can, and place it back into the bowl.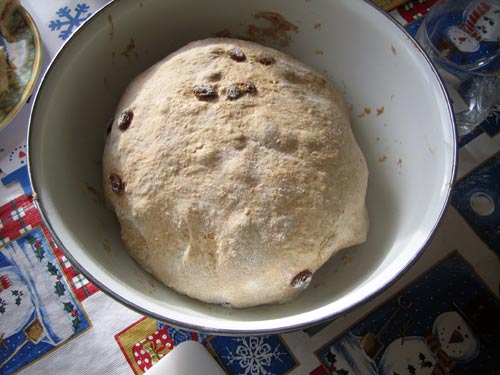 Cover the bowl and allow the dough to rise in bulk again for another hour. Then divide the dough in thirds and shape the loaves.
Place each shaped loaf into a greased bread pan.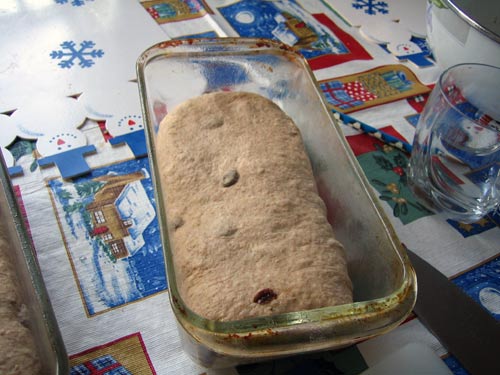 Spray or gently brush each loaf with water and sprinkle with some more oats.
Cover the pans and set aside to rise until the loaves crest above the edge of the pans, roughly 90 minutes.
Preheat the oven to 450. Place the loaves in the center rack of the oven. After 5 minutes, reduce the oven temperature to 375. Rotate the loaves 180 degrees after 20 minutes, and bake for another 15 to 25 minutes, until the tops of the loaves are nicely browned, the bottoms of the loaves make a hollow sound when tapped
recipe source
here
shared at
whip it up wednesday