NEW WINNER HAS BEEN SELECTED AND EMAILED
Striving to eat better and serve my children better snacks and foods led me to discover new foods and snacks. One of the new snacks that we recently discovered and were able to review
crunchy n yummy
freeze dried fruit snacks. One place that I find it hard to supply my family with nutritious foods is packing their lunches. I love the crunchy n yummy snacks because they taste great are perfect for every member of our family and are packed with nutrition.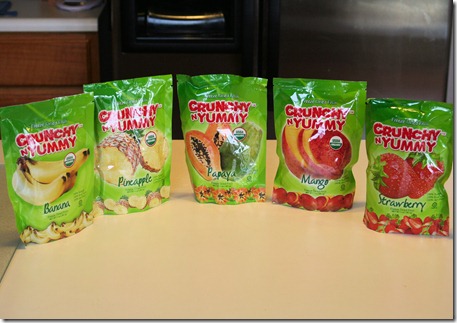 The fruit snacks are certified USDA organic, gluten - free, vegan and peanut-free. The snacks come in 5 different varieties – banana, papaya, strawberry, mango & pineapple. I realize how delicious the fruit is in standard form as it comes but freeze drying made me wonder about the taste of the snack.
The Crunchy & Yummy website describes how the fruit is made:
All Crunchy & Yummy fruits are freeze-dried at their peak of flavor. The freeze-drying process involves removing almost all the moisture in a vacuum chamber and sealing the food in an airtight container. They retain all of their color, flavor & nutritional value after freeze-drying and don't contain any preservatives, salt, sweeteners or gluten.
When we received the snack package that was so kindly sent to us from Crunchy & Yummy we loved the fact that the five great taste were available. We tried all the flavors before deciding on our favorite. The funny thing is like many other things no one could agree on the favorite flavor. Some said the pineapple, others agreed that the strawberry flavor was the best and yet there were others that simply could not decide on their favorite and liked them all. Yummy is the word that was said most often.
These perfect for on the go snacks can quickly be included in lunch snack for work or school. Take them along for a quick snack in your purse, gym bag or backpack. Other ideas that the fruit snack could be used for include salad toppers, yogurt mix ins and ice cream toppers
Buy: Crunchy & Yummy snacks can be
purchased online
or in select stores in New York & Florida. If you would like a store near you to carry Crunchy & Yummy snacks, click here to print a letter out to bring in to your store.
Win: One of Annies Home readers will win their own snack package of five flavors of Crunchy & Yummy snacks.
To enter this giveaway you must be a follower of my blog and share with me what flavor of Crunchy & Yummy snack you would like to try (mandatory entry)
Extra Entries:
follow me on twitter @shopannies (look for button on right side)
tweet about the giveaway (1 entry per tweet can tweet up to 3 times a day with one hour apart) leave link in comment
share this giveaway on facebook leave link in comment
share this giveaway on your blog (10 entries) leave link in comment
comment on my new review for moon dough (3 entries)
Giveaway starts now and ends October 2, 2011. Good Luck Email must be included in comment or on blog profile or entry will not count
I would like to thank Crunchy n Munchy for providing the snacks. The thoughts and opinions in this post belong to me and have not been influenced.