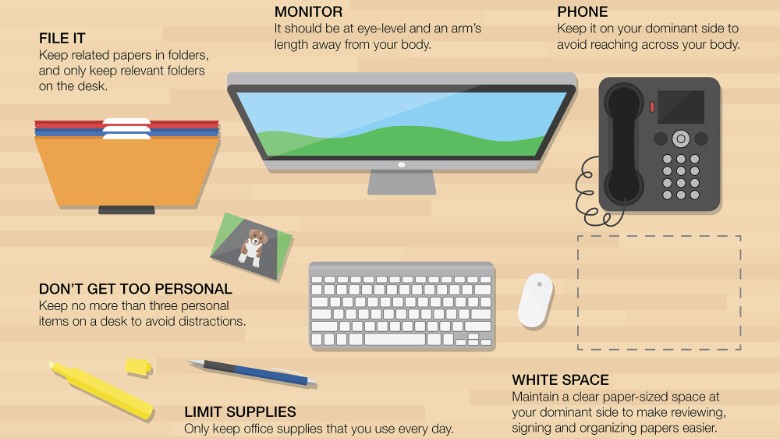 CNN suggest the above model for working desks. I only wish mine would stay like that all the time If you are like me and desire a neater desktop here are some tips to do so:
It is common at times you get so much into your work that you get lost in what you are working on While our work keeps us so super busy the world does continue with housework, kids, and whatever is currently hollering "mom" "honey" or our name.
Dump the trash as you go, take dishes out when done with them, and clean up as you go. It only takes a bit to clear the desk as you go along rather than waiting for it to pile up before cleaning.
While many items are saved on the laptop there are still papers that need to be retained as well. Paperwork includes files, folders and notebooks that are used in the office. Unorganized paperwork can make an office not only look messy but it is also easy to lose important items. Clutter can be cut down by keeping paperwork in files, folders and binders.
A cluttered office may lead to an inefficient work life. Every day after you complete your work take a few minutes to clean and organize. Put paperwork where it needs to go, organize computer files, and spot clean. Having a clean work space should help you feel more positive.
retweet post
here
shared at these blog hops, linkups and parties
anything goes pink saturday
shared at these facebook group