1 cup dates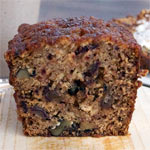 1 and 1/2 cups boiling water
1 large egg - beaten
1 and 1/2 cups sugar
2 and 1/4 cups flour
1/4 teaspoon baking powder
2 teaspoon baking soda
1/2 teaspoon salt
1 cup chopped walnuts (or pecans)
1 Tablespoon margarine - melted
1 teaspoon vanilla
Place the dates in a bowl and soak them in 1 and 1/2 cups boiling water for 10 minutes.
Preheat oven to 350 degrees.
In a large bowl, sift together the flour, baking powder, baking soda and salt. Mix in the chopped walnuts.
In a medium bowl, mix the egg and sugar together.
Take the flour mixture (one cup at a time) and the sugar mixture (1/3 at a time) and alternately mix them in with dates (and the liquid the dates were soaking in). Add the margarine and vanilla and stir to combine. Try not to over mix.
Pour the batter into a greased loaf pan. Bake for 75 minutes. Allow the bread to cool for about 20 minutes before slicing and serving.
shared this healthier food recipe post at
fb groups
blog support group=== facebook like