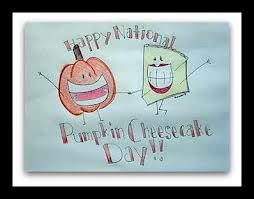 National Pumpkin Cheesecake day may just be one of the yummiest days of the year. I have shared many yummy recipes over the years of this blog. While some recipes go back to the past the first pumpkin cheese cake was in print around the 1970s and appeared as a cheese pie recipe rather than cake.
National Pumpkin Cheesecake day celebrates a delicious fall dessert. Pumpkins in October are normally in full season. Great time to put two favorites of pumpkins and cheesecake together to make one delicious treat. They are both yummy , nutritious and healthy.
Visit a cheesecake store or bakery and purchase a piece of pumpkin cheesecake or you could make up your own homemade pumpkin cheesecake. It's a great opportunity to spend time in kitchen and bring someone in there so that you bond over National Pumpkin Cheesecake Day.
1 cup crushed gingersnap cookies (about 20 cookies)
1/3 cup finely chopped pecans
1/4 cup butter, melted
4 packages (8 ounces each) cream cheese, softened, divided
1-1/2 cups sugar, divided
2 tablespoons cornstarch
2 teaspoons vanilla extract
4 large eggs
1 cup canned pumpkin
2 teaspoons ground cinnamon
1-1/2 teaspoons ground nutmeg
GARNISH:
Chocolate syrup, caramel ice cream topping, whipped topping and additional crushed gingersnap cookies, optional
Preheat oven to 350°. Place a greased 9-in. springform pan on a double thickness of heavy-duty foil (about 18 in. square). Securely wrap foil around pan.
In a small bowl, combine cookie crumbs, pecans and butter. Press onto the bottom of prepared pan. Place on a baking sheet. Bake 8-10 minutes or until set. Cool on a wire rack.
For filling, in a large bowl, beat 1 package of cream cheese, 1/2 cup sugar and cornstarch until smooth, about 2 minutes. Beat in remaining cream cheese, one package at a time until smooth. Add remaining sugar and vanilla. Add eggs; beat on low speed just until combined.
Place 2 cups filling in a small bowl; stir in pumpkin, cinnamon, and nutmeg. Remove 3/4 cup pumpkin filling; set aside. Pour remaining pumpkin filling over crust; top with remaining plain filling. Cut through with a knife to swirl. Drop reserved pumpkin filling by spoonfuls over cheesecake; cut through with a knife to swirl.
Place springform pan in a large baking pan; add 1 in. of hot water to larger pan. Bake 55-65 minutes or until center is just set and top appears dull. Remove springform pan from water bath. Cool on a wire rack 10 minutes. Carefully run a knife around edge of pan to loosen; cool 1 hour longer. Refrigerate overnight.
Garnish with chocolate syrup, caramel sauce, whipped topping and additional crushed gingersnaps, if desired.

Yield:

12 servings.