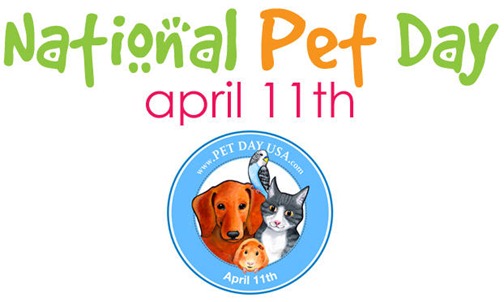 April 11, today is National Pet Day. Often our pets are more like our furry, feathered or scaled family member. Today, sadly is also a day to remember all those pets taken to shelters where many are put to sleep before they find their forever homes. National Pet Day celebrates the joy that our lovely furry friends bring into our lives.
National Pet Day founders are Celebrity pet lifestyle expert and animal welfare advocate Colleen Paige. It is a day to raise awareness about the importance of pet adoption.
National Pet Day in the U.S. is April 11. The day is all about appreciating the wonderful pets in our lives. From gerbils, birds, turtle, fish , dogs, cats or whatever pet you love. Most pets come to their new homes through family members and around 29% of cats and dogs are adopted from shelters. More than 35% of cats were strays before finding their forever home.
Sadly there are around 16000 pets dying in the US shelters on daily basis. That figures up to 667 animals an hour. One thing that you could do to help these shelters out is to donate money to help these poor, helpless animals.
April is also the month to help draw awareness to Animal Cruelty. Adults and children are both guilty of animal cruelty. Teaching our chldren to be compassionate toward animals from a young age should carry on into adulthood.
shared at
Manic Monday