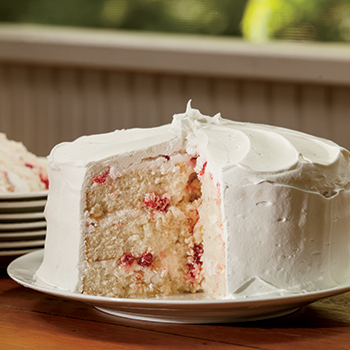 Cake
1 cup (2 sticks) butter

2 cups sugar
3 cups cake flour
2 teaspoons baking powder
1 cup milk
1 teaspoon vanilla
1 teaspoon almond extract
1 cup unsalted almonds, chopped
6 egg whites
¼ teaspoon salt
Frosting
2 cups sugar

1 cup water
2 egg whites
½ cup candied cherries, chopped
½ cup candied pineapple, chopped
few drops vanilla or almond extract
Preheat oven to 350 degrees.
Cream butter and sugar until light and fluffy. Sift together flour and baking powder; remove 2 tablespoons and set aside. Add sifted ingredients, alternating with milk, to creamed mixture. Stir in vanilla and almond extract. Combine almonds with reserved flour and add to batter.
Beat egg whites until stiff. Add in salt. Fold into batter. Pour into three greased and floured 8- or 9-inch cake pans.
Bake for about 20-25 minutes or until a toothpick inserted in the center of the cake comes out clean. Cool 5-10 minutes then remove from pans and cool on racks.
Tips & Notes
Some historians say Mary Todd Lincoln didn't serve the cake with frosting, but it certainly adds great flavor!
While cake is baking, prepare frosting: Combine sugar and water in a saucepan, stirring until sugar is dissolved. Bring to a boil; cover and cook about 3 minutes until the steam has washed down any sugar crystals that may have formed on side of pan. Uncover and cook until syrup reaches 238-240 degrees on a candy thermometer.
Whip egg whites until frothy; add in syrup in thin stream, whipping egg whites constantly until frosting is spreading consistency. Mix in cherries, pineapple and vanilla or almond flavoring. Frost cake once it has cooled.