This is an easy breakfast recipe that takes few ingredients and is super easy as well.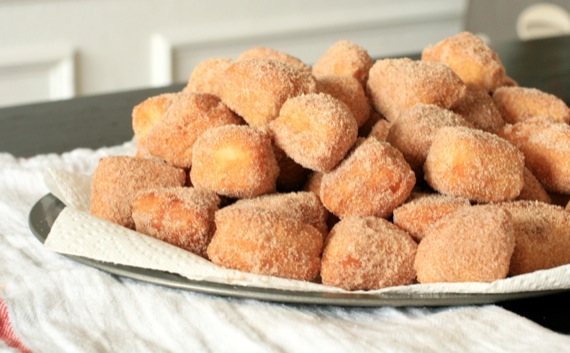 Fried Cinnamon-Sugar Biscuits
1 8-piece can refrigerated biscuit dough
vegetable or canola oil for frying
1/2 cup sugar
2 tablespoons cinnamon
In a large dutch oven or deep cast iron skillet, heat about 2 inches of oil to around 350 degrees. To know when your oil is hot enough, you can either use a thermometer or put a drop of water into the oil; if the water sputters and pops, it's ready. I kept my heat set on medium-low after reaching the desired temperature and was able to keep a pretty consistent 350 degrees.
Have a large platter lined with paper towels ready. Mix sugar and cinnamon together in a pie plate or platter; set aside. Cut each biscuit into quarters. Drop 6-8 pieces of dough in the hot oil (carefully) and cook until they begin to brown on one side and float. Turn them over and cook until the other side is lightly browned. Remove from the oil and drop into the cinnamon-sugar; roll to coat and set on the paper towel-lined platter.
Repeat with the remainder of the dough pieces. If your dough seems to be browning too quickly, your oil is too hot. Reduce the heat just a little. Each piece should take about 45 seconds to 1 minute on each side. Serve immediately. Makes 32 pieces.