While its cold outside I wanted to share with those I love a bit of fun. The anise seed shared in these cookies is simply fun to say and the sprinkles make them fun to look at. Not sure what anise is?
Grown in nature you may find it like this
Anise makes these Italian cookies really taste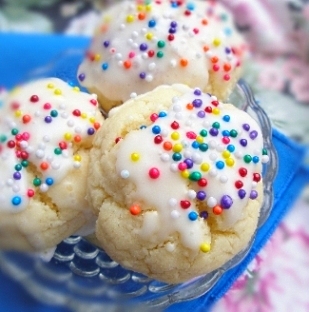 YIELD:
3 dozen cookies!!!
1 cup butter, softened
3/4 cups sugar
1 teaspoon anise extract
1 teaspoon lemon extract (see
substitutions
below)
3 cups flour
3 teaspoons baking powder
1/4 teaspoon salt
1 egg
Glaze Ingredients:
1 cup powdered sugar
milk
colored sprinkles
Pre-heat oven to 350 F.
Beat together butter and sugar until creamy. Stir in anise and lemon Add dry ingredients - blend together. Add eggs. Blend. Form dough into 1-inch balls and place 2 inches apart on ungreased cookie sheet. Bake for 15 minutes. Cool and glaze.