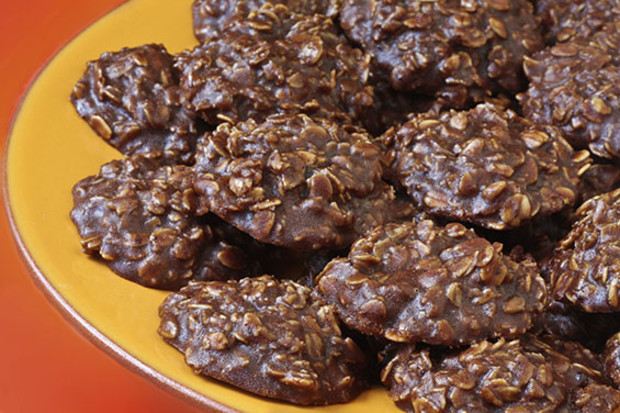 8 tablespoons
(1 stick) butter
1 1/2 cups
packed light brown sugar
1/2 cup
heavy cream
1/3 cup
unsweetened cocoa powder
1/2 cup
creamy peanut butter
1 teaspoon
pure vanilla extract
3 cups
old-fashioned rolled oats (not quick-cooking)
1 cup
dry roasted peanuts
In a large saucepan, melt the butter over medium-high heat. Stir in the brown sugar, cream, and cocoa, then boil for 1 minute.
Remove the saucepan from heat, add the peanut butter and vanilla, and stir until smooth. Stir in the oats and peanuts.
Drop heaping tablespoonfuls of the batter onto wax paper–lined baking sheets, spacing them 1 inch apart, and let cool until set, about 20 minutes.
Storage suggestion:
Keep the cookies at room temperature, between sheets of wax paper in an airtight container, for up to 3 days.