Lighter Chicken and Biscuits (Adapted from Everyday Food)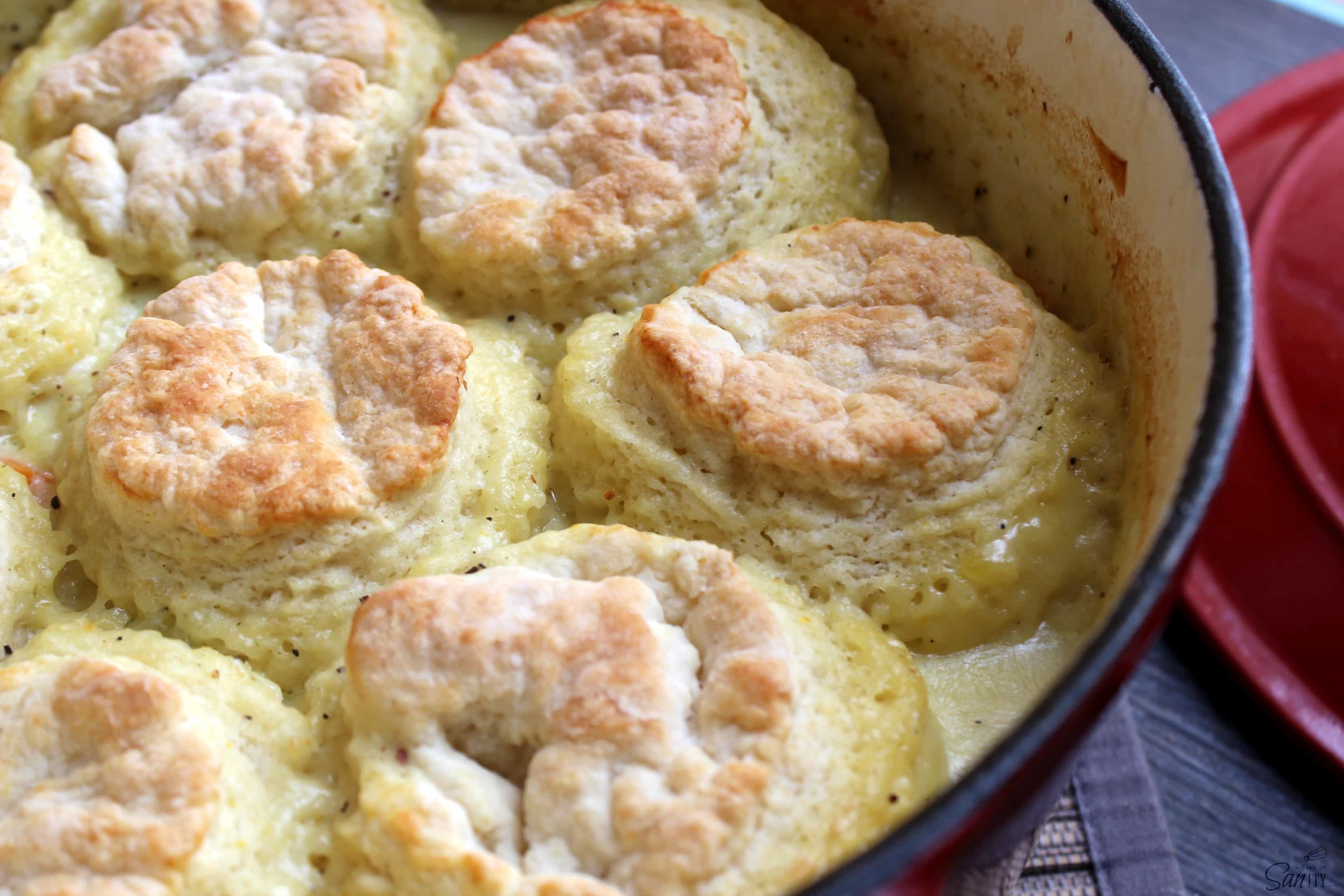 For the biscuits
1/3 cup all-purpose flour
1/3 cup whole-wheat pastry flour
1 teaspoon baking powder
1/4 teaspoon salt
1 large egg white
3 tablespoons canola oil
1/4 cup milk
For the chicken
2 teaspoons canola oil
5 carrots, thinly sliced
5 celery stalks, thinly sliced
10 ounces frozen pearl onions, thawed
2 tablespoons all-purpose flour
3/4 cup milk
1/2 cup water
1/4 teaspoon dried thyme
1 1/2 pounds boneless, skinless chicken breasts, cut into 1" pieces
For the biscuits
Preheat oven to 450 degrees.
In a medium bowl, whisk together flours, baking powder and salt.
In a small bowl, whisk together egg white, oil and milk. Pour into the flour mixture and stir just until combined. Drop four 1/4-cup scoops of dough onto a baking sheet lined with parchment paper - bake until golden, about 12 to 15 minutes.
For the chicken
Meanwhile, in a Dutch oven, heat oil over medium-high. Add carrots, celery, and onions - season to taste with salt and pepper. Cook until vegetables are tender, about 7 to 10 minutes. Sprinkle in flour - stir and cook for 1 minute. Stir in milk, water and thyme - simmer until liquid is thickened, about 2 to 3 minutes. Add chicken and continue simmering until the chicken has cooked through, about 3 to 6 minutes. Serve stew with biscuits.
Makes 4 servings.
retweet recipe
here
shared at these blog hops, linkups and parties
mommy monday