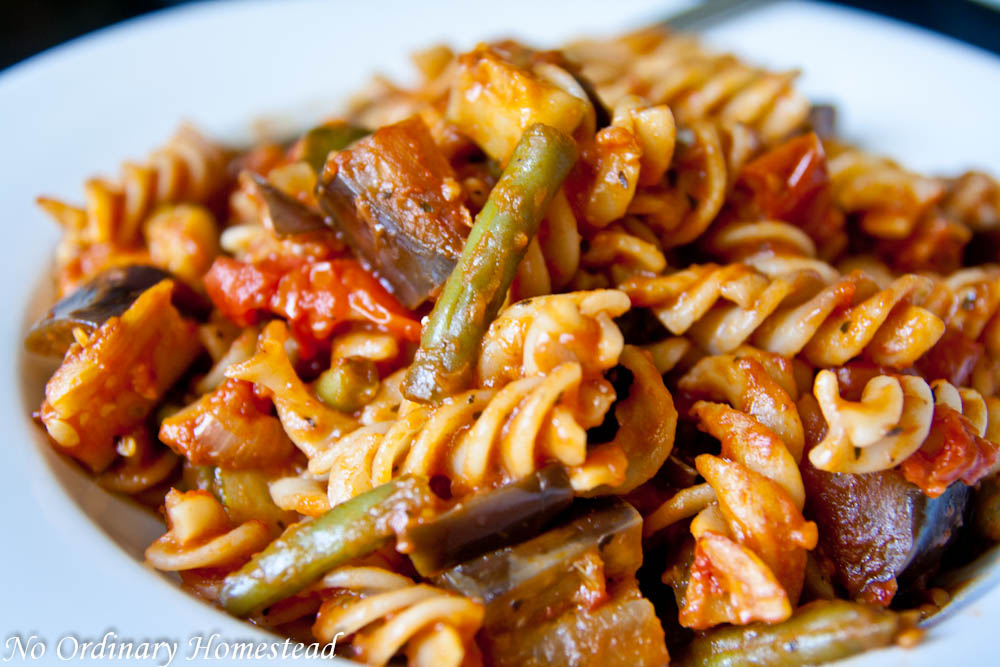 8 ounces pasta
2 tablespoons olive oil
1 small onion or scallion
1 medium eggplant, cut into 1-inch pieces
1 medium zucchini, sliced
1 fistful fresh green beans, ends trimmed and cut to bite-size pieces
1 1/2 cup fresh tomatoes, chopped or 1 can tomatoes
Salt & pepper, to taste
1 small chili pepper, diced (add more or less to your taste)
Shredded Parmesan to top
Cook pasta according to instructions on the package.
Bring small pot of water to boil and cook green beans in it for 10 minutes or until tender.
Heat olive oil in pan until medium-high heat. Add onion, eggplant and zucchini and saute until onion is translucent and other vegetables have softened.
Add tomatoes and stir together, cooking until tomatoes have released their juice. Add diced chili pepper, salt and pepper.
Add green beans and pasta when finished cooking. Toss all ingredients together and top with Parmesan.
shared at
busy monday