The date of June 24th is normally a sweet day. It is the day that pralines are celebrated. Pralines
are confections made from nuts that may or may not be ground combined with sugar syrup. The term
pralines may also refer to chocolate cookie that contains ground powder nuts or nuts.
French settlers brought their recipes with them into Louisiana. Both sugar cane and pecan trees were plentiful in this location in Louisiana. The chefs during the 19th century substituted pecans for almonds and added cream to a thickened confection. From their pralines were created.
New Orleans Praline Recipe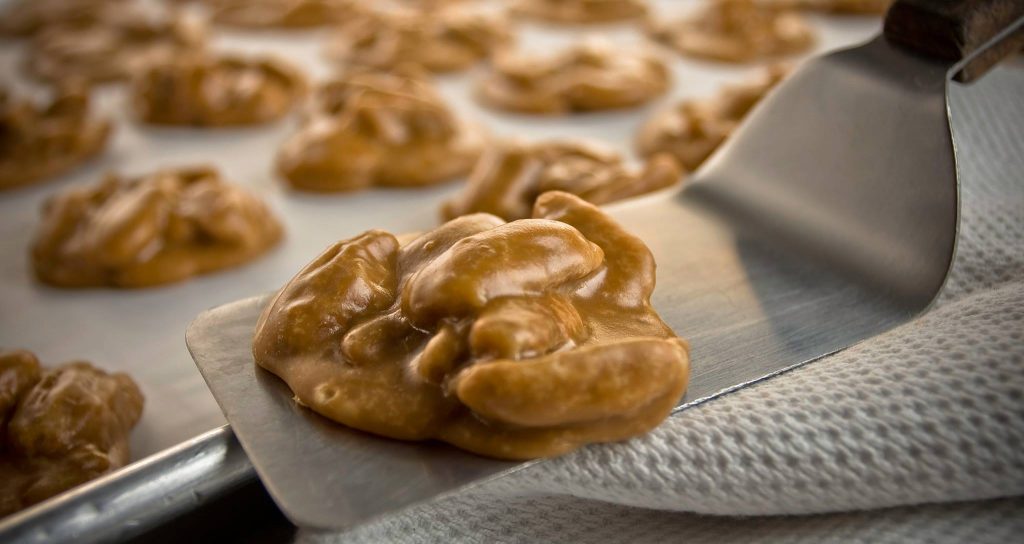 1 cup light brown sugar, packed
1 cup granulated sugar
½ cup light cream
1 ½ cups pecans, halved
2 tablespoons butter
Combine sugars and cream in a heavy 2-quart saucepan and bring to boil over
medium heat, stirring occasionally with a wooden spoon, until mixture forms a
thick syrup. Add pecans and butter and continue to cook over medium heat,
stirring frequently. Remove saucepan to a heatproof surface (such as a wire rack)
and let cool for 10 minutes. Use a tablespoon to drop rounded balls of the mixture
onto sheet wax paper or foil, leaving about 3 inches between each ball for
pralines to spread. Allow to cool.
Makes about 12 candies.
Na-Na's Pecan Pralines
1/2 stick of butter (1/4 cup)
1/2 cup sweetened condensed milk
1/2 cup milk
2 cups sugar
1 cup brown sugar
1/4 tsp salt
3 cups pecan pieces
Melt butter over medium heat. When melted, add sugars, milks, and salt. Slowly bring to a boil, whisking occasionally to prevent/monitor scalding. When the candy thermometer reads 230-235 degrees, remove from heat and stir in nuts. Quickly scoop out batter onto wax or parchment paper.
Tip for easy cleanup boil the kitchen utensils you used inside the cooking pan all should come off easier