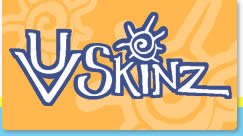 Happy Valentines day to all my readers. February 14th is a day that we look forward to each year. Not only a day of sweet chocolates to give our love but also a big day because here in southern Illinois it is also the opening day for many of our favorite spots. Yes, I realize that we are still in the middle of a frozen winter but the places that I love also know that in a few weeks the warmer weather will be here. So my favorite ice cream shop opens and the place I love to eat fish on the river opens for the season each year on February 14th. Today, it is not the only way that I want to share with you on how to show love to all those you love. You see there is another set of awesome products that will see lots of love as the weather warms up. A line of skin protective clothing from
UV Skinz
that will help protect your family from the dangerous UV rays found in the sun everyday.
The history of our family is all comprised of farmers. In fact as far back as you go you will find some type of farming going on throughout the decades. While farming is a wonderful way of life there are some health problems that can come out of the dangers of farming. One of these is the fact that it takes the sun to grow the crops that are to be farmed. The sun as we all know gives off dangerous UV rays. Thus the dangers that I have grown up with watching many family members tend to skin cancer issues that have come about because of the dangerous UV rays.
The issues of skin care and protection from the sun go way beyond the farming in our family. Every day we are exposed to UV rays and if your family loves to be outside as much as ours does you know this very well. Sun screen is not enough to deal with the problems but teamed with sun wear they become a duo that helps battle the deadly rays of the sun. There are many products on the market that can help shade the sun from the body but when you are in the sun you need to take every step you can to protect yourself. UV Skinz has a wonderful fashionable line of 50+ UV sun protection clothing. In the collection of swim wear you will find both long and short sleeve swim shirts, hats, shorts, gloves, shades, and sun screen. The best part is it is for every member of the family. Kid sizes range rom 6 months to 14 and adult sizes go up to a size 4 xl.
UV Skinz
is approved by the Melanoma International Foundation as well as an iParenting Media Award Winner.
What Makes UV Skinz so special?
We are often asked how our UV Skinz are different and what makes them so special. There are a variety of skin protection choices out there. Every day, we do our best to help take the guesswork out of ensuring that you make the best investment in the highest protection rated, most comfortable, fun and fashionable outdoor and swimwear products that will maximize your fun in the sun. Building a family of loyal lifelong customers and partners governs every move we make. If this isn't enough to convince you, well, the proof is in the product!
Our Review
We were sent the
Girls Aloha Sun Dress in pink
. One thing my little princess loves is her dresses. The one thing that she does not know is that nana is giving her more than just another pretty dress. Nana can rest assure that she will be protected by the sun by the material of the dress with certified UPF 50+ while playing in the sand on the beach that her mommy and daddy take her whenever they can. I can rest assure that she is protected by those terrible UV rays that have damaged so many members of my own family.
I love the flowing skirt of the dress it allows our princess to have that pretty feeling. Another great thing is that if we choose to have matching sets that is easy to do because the same material in this dress is found in both the man and womans shirt. Princess and the Prince have long suffered from eczema and thus hate to feel seems within the clothes. The aloha dress possesses flat lock seams throughout it to help avoid irritation.
By the way have you been over to see the UV protective line of clothing on the UV Skinz website? It has so many items from outerwear ponchos and hoodies to shoes and sun protective wear for fun in the sun. Take advantage of a great deal currently going on that allows you to save and offer those you love the gift of UV protection.
contact UV Skinz
at facebook
,
twitter
,
pinterest
I was sent a product for review purposes only. The thoughts and opinions shared in this post are those of mine alone. I was not influenced in any way by the sponsor of this post.