April 25th is a day to welcome zucchini bread. But first lets take a look at zucchini Did you know that:
zucchini has more potassium than a banana

The name of the vegetable come s from an Italian word "zucca" that means squash

In the world of zucchini biggest is not best. The most flavorful zucchinis are small to medium in size

nutrients and vitamins found in zucchini can help prevent cancer and heart disease

the zucchini flower is also edible.
Today, is the day that celebrates the zucchini bread and not zucchini which takes place in August during the harvest of the vegetable. I often wonder if you would have found zucchini bread at the table when the explorers first came to America. As many explorers would take back the vegetable as they considered it strange food. The native Americans referred to zucchini as "Something eaten raw" Now while we may not eat the vegetable raw it is easy for even beginner bakers to make into bread.
Pumpkin Zucchini Bread
adapted from Betty Crocker circa mid 1960's, we think




Makes two loaves, or 24ish muffins, or lots o' mini muffins (probably 48+)





2/3 c shortening




2 2/3 c granulated sugar




4 eggs




3 c shredded zucchini (about 3 medium)




2/3 c water




3 1/2 c all-purpose flour




2 tsp baking soda




1 1/2 tsp salt




1/2 tsp baking powder




1 tsp cinnamon




1 tsp ground cloves




2/3 c coarsely chopped nuts (we used walnuts)




2/3 c raisins (we subbed currants this time)





1. Heat oven to 350 degrees. Grease bottoms only of two loaf pans or spray muffin pans (or line with paper liners).



2. In large bowl, mix shortening and sugar. Add eggs, water, and zucchini.

3. Blend in flour, baking soda, salt, baking powder, cinnamon, and cloves. Stir in raisins and nuts.

4. Pour into pans. Bake until wooden pick inserted in center comes out clean, about 50 minutes. Cool slightly on rack (about 15-20 minutes).

5. Loosen sides of loaves from pans; remove from pans to cooling racks. Cool completely.

6. To store, wrap in two layers of plastic wrap and refrigerate no longer than 10 days. Also freezes well. Defrost loaves in the refrigerator for 24 hours before serving.



Happy Zucchini Bread Day!
another great recipe that can be made simple or throw in a bit of nuts, chocolate chips, or your choice other flavor. Zucchini bread is rather inexpensive to make, takes little time and is easy. Perhaps, the hardest part is grating the zucchini.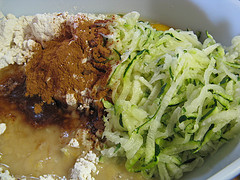 2 ½ cups sugar
3 eggs
3 cups flour
3 tablespoons vanilla extract
1 cup oil
2 cups zucchini (grated)
¼ teaspoon salt
1 teaspoon baking soda
¼ teaspoon baking powder
1 cup nuts (optional)
3 teaspoons cinnamon
Cooking Instructions: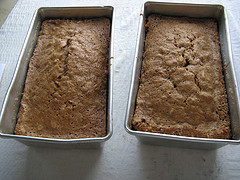 Step 1: Pre-heat the oven to 350 degrees. Combine all of the ingredients and mix well.
Step 2: Pour mixture into 2 greased loaf pans and bake for 1 hour.
Step 3: Remove from oven and allow bread to cool before removing.