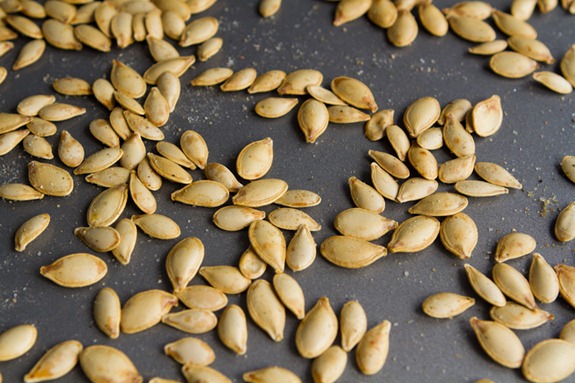 Roasting Pumpkin Seeds begins with the meticulously cleaning of the seeds. There should be no sign of pumpkin guts remaining on the seeds. An easy way to remove the guts from the seeds is to pull all out and place in a big bowl of water and using your hands break the seeds apart. The seeds will float to the top of the water.
After the seeds are clean they should be boile for 10 minutes in salt water. When the pot boils reduce heat to a simmer, uncovered, for 10 minutes over low medium heat. This method produces a crispy outer shell during roasting however, this step is optional and the seeds will still turn out lovely.
Drain the seeds in a colander and towel dry lightly. The seeds may stick to the towel but simply easily knock these off Just lightly dry they do not have to be thoroughly dried.
Spread seeds on a baking sheet drizzle about 1 tsp extra virgin olive oil on the seeds Rub oil into seeds and sprinkle with salt. Spread the seeds out as thin as possible and try not to overlap seeds.
Roast seeds at 325 for 10 minutes. Remove seeds from oven and stir. Roast another 10 minutes , during last 5 minutes of roasting, remove seeds and crack open to make sure the inner seeds are not burning. Cool take a taste test the seeds are ready when the shell is super crispy and easy to bite through The seeds should be golden but not brown.
Sprinkle some more salt on the seeds and time to enjoy and share with family and friends. Yummy!!
Pumpkin seeds are packed with iron, magnesium, fibre, zinc, potassium, healthy fats, and protein.
recipe source
here
shared at
Saturday sparks
sharing saturday
dare to share