Looking for a Thanksgiving sweet potato recipe that is both spicy and tasty? Check out this one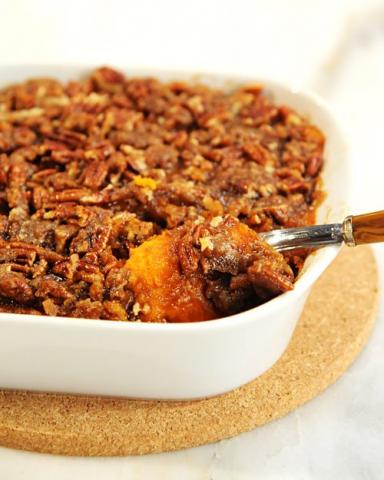 1/4 lb unsalted butter (1 stick), cut into 1-inch chunks
5 lbs sweet potatoes (about 8 medium) peeled and cut into 1-inch cubes
1 cup packed light brown sugar
1½ teaspoon salt
1/2 teaspoon ground black pepper
1/2 cup water
Topping
1 egg white lightly beaten
1/2 cup packed light brown sugar
1/8 teaspoon salt
pinch cayenne pepper
pinch ground cumin
2 cups pecans, halved
Sweet Potatoes
Melt the butter in a large Dutch oven over medium high heat. Add the sweet potatoes, brown sugar, salt, pepper and water; bring to a simmer. Reduce the heat to medium-low, cover and cook stirring often until the sweet potatoes are tender (a paring knife can be slipped into center without resistance), about 45 to 60 minutes.
When the sweet potatoes are tender, remove the lid and bring the sauce to a rapid simmer over medium-high heat. Continue to simmer until the sauce has reduced to a glaze, 7 to 10 minutes.
Topping
Mix all the ingredients for the topping in a medium bowl and set aside.
Adjust an oven rack to the middle position and heat oven to 450˚F. Pour the potato mixture into a 13x9-inch baking dish. Spread the topping over the potatoes. Bake until the pecans are toasted and crisp, 10 to 15 minutes.
Serve immediately.
Recipe courtesy of Best American Side Dishes by Cooks Illustrated
shared at one or more of these parties
Anything Goes (3a)-

Bacon Time with the Hungry Hypo


Best of the Weekend (p.m.)-

Cooking With Curls

,

A Little Claireification

,

Little Miss Celebration

,

The Mandatory Mooch


Craft Frenzy Friday (Th7)-

Craft Dictator




Eat. Create. Party! (Th7p)-

Endlessly Inspired

,

I Want Crazy,

A Dash of Sanity,

Living Better Together


Fabric Frenzy Friday (F)-

Fort Worth Fabric Studio


Fabulous Friday-

Simple Nature Decor


Feature Friday Link Palooza (Th pm)-

Blissful and Domestic


Five Friday Finds-

Morsels of Life


Foodie Friday (Th8)-

Simple Living and Eating

and

Home Maid Simple


Foodie Friends Friday (Th8)-

Foodie Friends Friday

,

Walking on Sunshine

,

From Calculus to Cupcakes

,

Cindy's Recipes and Writings

,

Busy Vegetarian Mom

,

This and That

,

Winelady Cooks

,

In the Kitchen with Jenny

,

The Chef Next Door

,

Robyn's View


Freedom Fridays with All My Bloggy Friends (TR 7:30)-

My Turn for Us

,

Love Bakes Good Cakes


Friday Favorites (Thpm)-

The Diary of a Real Housewife


*Friday Features-

Oh My Heartsie Girl


Friday Link Party (Th8)-

The Pin Junkie


From the Farm (7aF)-

The Homesteading Hippy

,

My Healthy Green Family

,
Inspiration Spotlight Party (F5a)-

Dear Creatives


Inspire Me Please (Th after8)-

Love of Family and Home

,

House of Rose

,

Liz Marie Blog

, Blissfully After
Let's Get Real Friday (Th5p)-

Our Little Family Adventure

,

Juggling Real Food and Real Life

,

365 (ish) Days of Pinterest

,

Calm, Healthy, Sexy

,

A Dish of Daily Life


Life of the Party (Th7)-

The Grant Life


Link Party Palooza (F6p or earlier)-

Tater Tots and Jello

,

Lil Luna

,

I Heart Nap Time

,

Somewhat Simple,

Today's Creative Blog


Our Favorite Things Pinterest Party (Th)-

My Turn for Us

,

Gina's Crafty Corner

,

View from the Fridge

,

Carissa Miss

,

Gingerly Made

,

Our Rosey Life

,

Crafty Allie

,

Denise Designed

,

Table for 7

,

3 Little Greenwoods




Pin Me (8a)-

Diana Rambles


Pinworthy Projects (7a)-

Domestic Superhero

, Just Us Four, Atkinson Drive
Post Comment Love (1:30a)-

Verily, Victoria Vocalises


Pretty Pintastic (2:01 a.m.F)-

Coffee With Us 3

,

Gloriously Made

,

An Alli Event

,

Captain America and His English Rose


Pure Blog Love (Th7p)-

PicNic


Say G'Day Saturday (F6)-

Natasha in Oz

,

What's On The List?


That's Fresh Friday(biweekly Thurs7)-

Prototype Mama


(*New) The Handmade Hangout (Th5)-

Too Much Time

,

From Gardners 2 Bergers

,

Christina's Adventures

,

Redoux Interiors

,

A Glimpse Inside


Weekend Potluck (F6A)-

The Better Baker

,

The Country Cook

,

4 Little Fergusons,

Sunflower Supper Club

,

Frugal Family Favorites


Weekend Recipe Link Up (F afternoon? before 4)-

Gator Mommy Reviews


Weekend re-Treat (Th6p)-

The Best Blog Recipes


Weekend Social (Th8)-

Kitchen Dreaming

,

The McCallum's Shamrock Patch


Weekend Wind-down (F5p)-

This SimpleHome


What To Do Weekends (Th9:00)-

Crafts a la Mode

- See more at: http://yesterfood.blogspot.com/p/blog-page.html#sthash.JsJ2Yh60.dpuf