I have long associated gumdrops with Christmas. My mother had a gumdrop tree that was considered very special. Yes that gumdrop tree held gumdrops that you got when and if you were well behaved. So to celebrate that gumdrop tree I wanted to share a few ideas of how to use gumdrops during the holidays.
Gum Drop Cookies
2 cups firmly packed brown sugar
4 eggs, separated
2 cups all-purpose flour
1/4 teaspoon salt
1 teaspoon ground cinnamon
2 tablespoons water
1 cup assorted miniature, colored gumdrops, chopped
1 cup chopped pecans
2 cups sifted powdered sugar
1/4 cup butter or margarine, melted
2 teaspoons grated orange rind
1/4 cup orange juice
Combine brown sugar and egg yolks in a large mixing bowl; beat until well blended. Sift together flour, salt, and cinnamon in a small mixing bowl. Gradually add two-thirds of flour mixture to creamed mixture alternately with water, beginning and ending with flour mixture. Stir well after each addition. Add chopped gumdrops and pecans to remaining flour mixture; stir to coat well, and set aside. Beat egg whites (at room temperature) in a small mixing bowl until stiff peaks form. Fold into batter alternately with reserved gumdrop mixture. Spread mixture evenly in a greased 15- x 10- x 1-inch jellyroll pan.
Bake at 350° for 20 minutes or until a wooden pick inserted in center comes out clean. Set aside to cool in pan. Combine remaining ingredients in a small mixing bowl; beat until well blended. Spread evenly over cookies in pan. Allow glaze to set before cutting into 3- x 1-inch bars.
recipe source here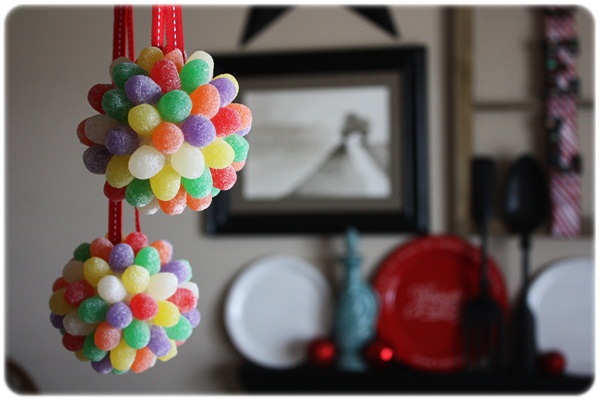 Find out how to make this gumdrop ornament
here