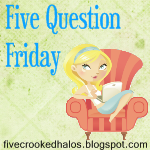 1. What is one thing you wish you did not have to teach your children?
well one thing that is on my mind is how to say good bye and live a upstanding independent life on their own While this is very proud moment also very sad
2.
What are you going to use since Google Reader is going away?
have no idea going to be interested to see how all answer this
3.
British comedy; Hilarious or strange?
oh my a bit of both makes me laugh but makes me wonder as well
4.
Do you prefer card games or board games?
like both but card games are what we play most
5. Will winter ever end?
I sure do hope so