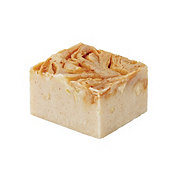 1 cup unsweetened

applesauce

……..................... 3/4 cup butter (6 oz)
2/3 cup

evaporated milk

……................…………..... 3 cups granulated

sugar
2 cups

marshmallow cream

(fluff)
2 cups

powdered sugar

(sifted) ….....................…. 1 tsp pure vanilla extract
1-2 tsp

apple pie spice

(
depending
how spicy you like it ~ or substitute cinnamon, nutmeg and a hint of ginger
)
chopped pecans (optional)

Prepare a 9" or 10" square pan by lining it with foil (
extending over the sides
) and spray with nonstick cooking spray.
Put
applesauce, butter, evaporated milk, salt, and granulated sugar in medium-large saucepan over medium-high heat and bring to a boil, stirring constantly.
Once boiling, insert candy thermometer and continue to cook, stirring constantly to prevent scorching, until it reaches 235 degrees (
or soft-ball stage
).
Then remove the saucepan from the heat and stir in the marshmallow cream, vanilla, sifted powdered sugar, apple pie spice, and nuts. Stir until all ingredients are well-incorporated and the fudge is smooth.


Scrape fudge into prepared pan and smooth it into an even layer. Allow it to set at room temperature for several hours, or one hour in the refrigerator. Pull out of pan by foil "tabs" and cut into small 1" squares to serve. (

Can be stored in an airtight container at room temperature for up to a week

.

)



NOTE: This may be a little "grainier" than other fudge due to the applesauce.
retweet post
shared at
sundays best