Water chestnuts can be found fresh in the grocery stores at different times. If you purchase yours fresh then make sure there is no sign of mold which may appear as blue green spots. Water chestnuts should be plump and firm and may be a bit dirty at times. Purchased water chestnuts should be used within a few days of buying. Store the chestnuts wrapped in paper in the fridge.
To prepare water chestnuts they should be washed, the tops and bottoms cut off and then peeled. If any spots of blue mold or bright yellow fresh are noticed they should be sliced off. Rinse the chestnuts again and they are ready to be sliced however needed.
Cilantro Chicken with Fresh Water Chestnuts and Baby Bok Choy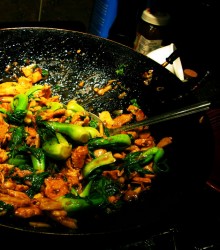 1 pound boneless skinless chicken breast or thigh, cut into 1 1/2″ X 1/2″ X 1/4″ strips
2 tablespoons Shao Hsing wine or dry sherry
1 tablespoon dark soy sauce
1/2 teaspoon freshly ground, toasted Sichuan peppercorns
2 tablespoons cornstarch
3 tablespoons peanut or canola oil
2″ cube fresh ginger, peeled and cut into thin slices
2-4 fresh Thai chilies, sliced thinly on the diagonal
8 cloves garlic, peeled and thinly sliced
5 large scallions, thinly sliced on the bias, light green and white parts only (reserve the dark green slices for garnish)
1 teaspoon sugar
1/4 teaspoon salt
1/8 cup Shao Hsing wine or dry sherry
2 cups fresh water chestnuts, peeled and thinly sliced into rectangles
1 tablespoon dark soy sauce
12 baby bok choy, bottoms trimmed, rinsed and dried (I use a salad spinner)
1/3 cup chicken broth
3 cups roughly chopped cilantro leaves (about two big bunches from the store)
reserved thinly sliced dark green scallions
1/4 teaspoon toasted sesame oil
Toss together the chicken, wine, soy sauce, Sichuan peppercorns and cornstarch and allow to marinate for at least twenty minutes, but no more than an hour and a half.
Heat wok on the highest heat your stove can produce until a thin wisp of smoke rises from the bottom. Drizzle oil into the wok, and allow to heat for about thirty seconds or so, or just until the oil shimmers in the bottom of the wok.
Add ginger and stir fry for about a minute. Add chilies, garlic and scallions and stir fry for thirty seconds.
Spread chicken in a single layer over the bottom of the wok, and allow to sit undisturbed for about a minute. While chicken is browning on the bottom, sprinkle with the sugar and salt. When chicken has browned a bit, stir fry until almost all of the pink is gone from the chicken. You will see that browned bits of marinade have begun to stick to the sides of the wok.
Drizzle the wine around the sides of the wok, and deglaze, scraping up the browned bits.
Continue stir frying until all of the pink is gone from the chicken, then toss in the water chestnuts.
Add soy sauce, bok choy, and chicken broth, and stir fry until bok choy leaves go limp and the stalks are still tender-crisp.
Throw in the cilantro and scallion tops, and stir fry for about one minute more.
Remove from heat and drizzle with sesame oil.
Serve immediately with steamed rice.