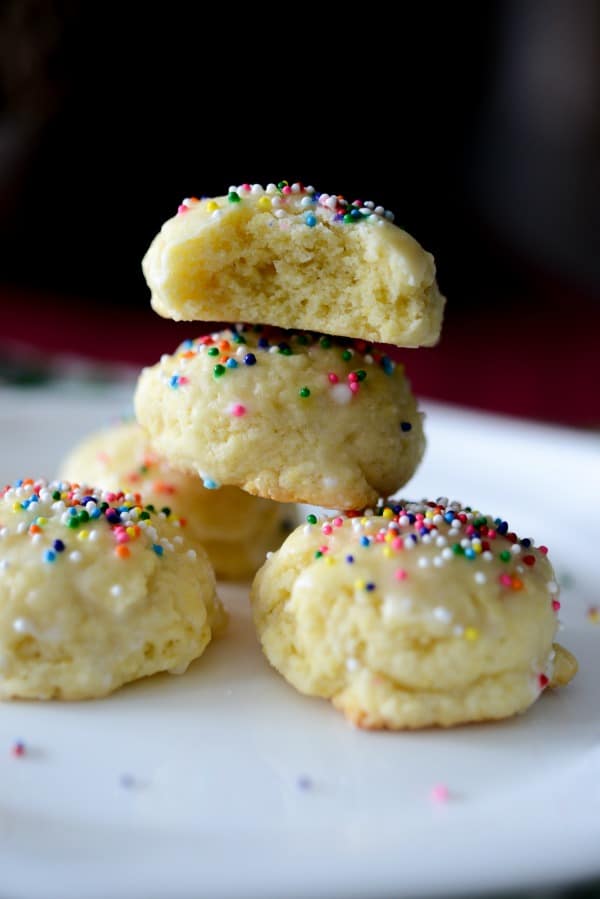 For the Anise Cookies
3 c. All Purpose Flour
3 tsp. Baking Powder
3/4 c. Granulated Sugar
3 large Eggs
1/2 c. Butter, melted
1 tsp. Anise Extract
Nonpareils, for decoration
For the Icing
1 c. Confectioners Sugar
1 tsp. Anise Extract
2 tbsp. Milk
For the Anise Cookies
Preheat oven to 350 degrees F.
Start by adding all ingredients to your mixer; then slowly blend until the dough forms.
Line a baking sheet with parchment paper or Silpat mat and drop 1 tbsp. of the dough onto the pan. (The cookie won't spread much so you can place them about 2" apart.)
Bake for about 10 minutes or until the bottoms turn a light brown. Remove the cookies from the oven and allow to cool for 5 minutes before transferring them to a wire rack to cool completely.
Once the cookies have cooled, dip the top of the cookie into the sugar mixture, place back on the wire rack; then sprinkle with nonpareils. (I like to dip about three to four cookies; then sprinkle because you want to make sure the sugar is still wet so the nonpareils will adhere.)
For the Icing
Combine the confectioners sugar, anise extract and milk in a small bowl and mix until the sugar is smooth.
recipe resource
here
please consider sharing this recipe
retweet recipe
here
shared at these facebook group linkups
retweet the words --- 4/28