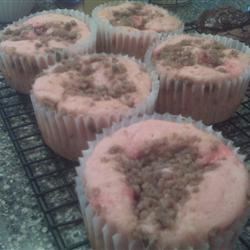 As a salute to cherry cobbler day I am sharing a delicious Cherry Cobbler Muffin. My dad would have loved this day as his favorite dessert was cherry cobbler.
2 cups all-purpose baking mix
1/4 cup white sugar
1 egg
2/3 cup milk
1 (21 ounce) can cherry pie filling, divided
1/4 cup all-purpose flour
1/4 cup packed brown sugar
2 tablespoons melted butter
1/4 tablespoon ground cinnamon
Preheat oven to 375 degrees F (190 degrees C). Line a 12 cup muffin pan with paper baking cups. Stir together the baking mix, white sugar, egg, and milk in a bowl just until combined. Stir in 1/2 of the cherry pie filling. Fill the lined muffin cups 2/3 full. Top each muffin with 3 cherries from the remaining cherry pie filling. Mix flour, brown sugar, melted butter, and cinnamon together in a small bowl with a fork until crumbly. Sprinkle evenly over unbaked muffins. Bake in the preheated oven until a toothpick inserted into the center comes out clean, about 22 minutes. Cool in the pans for 10 minutes before removing to cool completely on a wire rack.
Recipe Source:
All Recipes
sharing on
Muffin Monday